RBS US subsidiaries in $14m settlement with regulators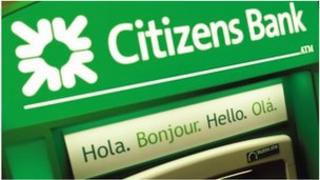 RBS Group's US subsidiaries have reached settlements worth $14m (£9m) with bank regulators after failing to comply with consumer protection laws.
The biggest settlement came from the Office of the Comptroller of the Currency (OCC), which fined RBS Citizens $5m and ordered it to pay back $2.5m to some 265,000 customers.
The subsidiaries were accused of inaccurate or misleading disclosures about overdraft protection programmes.
RBS did not admit or deny the actions.
The Federal Deposit Insurance Corporation (FDIC) fined another RBS subsidiary, Citizens Bank of Pennsylvania (CBPA), $5m for similarly misleading customers and ordered it to pay 75,000 customers $1.4m.
The FDIC said CBPA had "engaged in deceptive practices".
The alleged violations took place between 2007 and 2011.
RBS and other leading UK banks have been heavily fined for misleading customers in the UK over payment protection insurance (PPI), which in many cases proved useless to those taking it out.
A spokesman for RBS Citizens said: "We take the results of these regulatory exams very seriously. We have changed the practices identified in these exam results and are working with our regulators to address any customer impacts that they have identified."