Carphone Warehouse buys Best Buy out of joint venture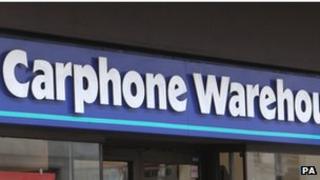 Mobile phone retailer Carphone Warehouse has agreed to buy out its joint venture partner Best Buy for £471m, giving it full control of its retail operations across Europe.
The joint venture - Carphone Warehouse Europe - operates almost 2,400 stores across Europe.
The joint venture was created in 2008, when Best Buy paid £1.1bn for its 50% stake in the firm.
Carphone said the two companies had decided to focus on their own regions.
"The transaction will simplify our ownership structure, streamline management decision-making and give us full ownership of our growth opportunities across Europe," said Carphone Warehouse chief executive Roger Taylor.
The deal was announced at the same time as a better-than-expected fourth quarter trading update from Carphone Warehouse Europe.
It said like-for-like revenues had risen 6.5%, higher than the 4% to 5% rise expected by analysts.
The withdrawal marks the end of a costly venture into Europe for Best Buy.
Carphone Warehouse Europe opened 11 American-style Best Buy electronics megastores in the UK, but closed them in 2011 after they lost tens of millions of pounds.
Investors welcomed news of the deal, sending shares in Carphone up 15.6%.