Whitbread plans faster Premier Inn and Costa growth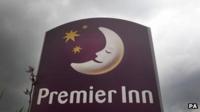 The owner of Premier Inn hotels and Costa coffee shops, Whitbread, has announced new expansion plans for the two businesses.
Whitbread said it wanted the number of rooms at Premier Inn to grow by 45% to 75,000 by 2018, and it wants to increase sales at Costa to £2bn.
It said the plans would create 12,000 jobs over the next five years.
Whitbread made the announcement as it reported pre-tax profits of £355.3m for the year to 28 February.
The company - which also owns Beefeater and Brewers Fayre restaurants - said total revenue for the year grew by 14% to £2.03bn.
Like-for-like sales at Premier Inn - which exclude the impact of new space - rose by 3.1%, while like-for-like sales at Costa climbed 6.8%.
Whitbread had announced in April 2011 that it wanted to reach 65,000 rooms at Premier Inn by 2016, and double Costa's sales to £1.3bn. It said it was "well on track" to achieve these targets, as it announced the new goals.
It said it had opened 4,242 Premier Inn rooms during 2012-13, taking the total to 51,671.
The hotel and restaurant sector has been one of the healthier sectors of the economy in recent months.
Last week's GDP figures showed that the services sector grew by 0.6% in the first quarter of the year, helped by a strong performance from hotels and restaurants.
The growth helped the overall economy to expand by 0.3% in the January-to-March period, which meant that it avoided falling back into recession.