US consumer spending in March beats forecasts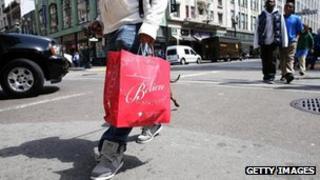 US consumer spending unexpectedly rose in March, official figures have shown.
Spending rose 0.2% in the month, according to the Commerce Department, beating economists' expectations for no change.
However, the increase is the smallest in consumer spending for three months, and marks a slowdown from February's 0.7% jump and January's 0.3% rise.
The data showed personal income also grew last month, rising by 0.2%, compared with 1.1% the previous month.
The increase in March's spending was largely driven by higher spending on utilities, as unseasonably cold weather took its toll.
The data tallies with last Friday's GDP release, when the government said consumer spending rose at its fastest pace in more than two years during the first three months of the year.
The strength of consumer spending, which accounts for about 70% of all US economic activity, helped the US economy to record a 2.5% annualised rate of growth in the first three quarter.
Other data showed the housing market as a brighter spot.
The National Association of Realtors said sales of previously owned homes rose in March to their highest level since April 2010.
Its pending sales index was up 1.5% to 105.7.
Fiscal tightening
Investors appeared to welcome the latest data, with the Dow Jones index of leading US shares rising 106.2 points to close at 14,818.75.
The broader S&P 500 gained 11.37 points to reach 1,593.61, just surpassing its previous record of 1,593.37.
Some economists believe the better than expected consumer spending data for March could mean growth will not slow as sharply as feared in the second quarter of the year.
"There appears to be more momentum heading into the second quarter on the consumer side than we had expected," said Andrew Grantham, an economist at CIBC World Markets.
But others point to the slowdown from previous months - which had been widely anticipated after the government's "sequester" spending cuts - as being the more significant factor.
Spending in March was "much less impressive than it looks", commented Ian Shepherdson, chief economist at Pantheon Macroeconomic Advisors, saying it was largely boosted by a weather related jump in spending on gas and electric utilities, which will reverse in April.
"The weakness of spending on goods in recent months... is the underlying story. Fiscal tightening is hurting," he said.