Eurozone economic sentiment hits 4-month low in April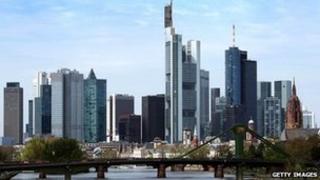 Confidence in the eurozone economy fell in April for a second consecutive month, increasing the likelihood of a cut in interest rates later this week.
Economic morale in the 17 countries using the euro slipped 1.5 points to a worst than expected 88.6, according to the European Commission.
It is now at a 4-month low.
Economists said the disappointing data meant the European Central Bank was likely to cut interest rates this Thursday.
"The further and increased slippage in economic sentiment in April reinforces our belief that the European Central Bank is more likely than not to cut interest rates on Thursday," said IHS Global Insight economist Howard Archer.
Germany, the eurozone's biggest economy, saw one of the sharpest declines in the region, with its economic index worsening by 2.3 points, while confidence in Italy fell by 1.9 points.
In contrast, economic sentiment in Spain rose by 0.9 points.
News of the pick-up in Spanish sentiment followed separate official data showing that inflation in Spain was slowing.
National consumer prices rose by 1.4% year-on-year in April, according to the National Statistics Institute (INE) - its lowest rate since March 2010.
The slowdown was largely due to a sharp drop in electricity prices in April.
Interest rate cut
Economists now expect The European Central Bank to announce a cut in interest rates when it reveals its decision this Thursday.
A Reuters survey last week found that a majority of economists expect the ECB to cut the bank's main refinancing rate by 25 basis points to a record low of 0.5%.
If the ECB was to cut rates in a bid to boost sentiment, it would mark its first reduction since July last year.
However, Steen Jakobsen, chief economist at Saxo Bank, said a cut in rates was unlikely to solve the crisis in the Eurozone.
"We need structural reforms and for businesses to invest again," he said.