Greggs bakery in profits warning after sales fall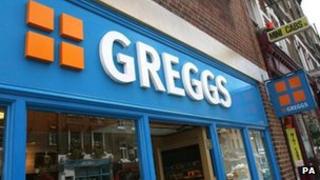 High Street bakery Greggs has warned of lower than expected profits this year after reporting falling sales.
The chain said like-for-like sales, which exclude newly-opened outlets, were down 4.4% so far this year.
It blamed bad weather and "under pressure" consumers, and said it did not expect market conditions to improve in the short term.
It said profits for the year were now likely to come in lower than market expectations.
"Despite good cost control overall profits have been affected in the first quarter of the year and are behind our plan," Greggs said in a statement.
"Although we are only four months into the year, based on current own shop like-for-like performance we believe that profits for the year are likely to be slightly below the lower end of the range of market expectations."
Greggs is a huge presence on UK High Streets, with almost 1,700 outlets.
So far this year, it has seen the net addition of 10 new outlets, which has helped increase total sales by 3%.
But the chain said the fall in like-for-like sales was driven by adverse weather, particularly in January and March, and customer numbers had decreased.
Consumers remain under pressure, which means promotional deals have been particularly popular, but this has hit profit margins.