US lifts Boeing Dreamliner ban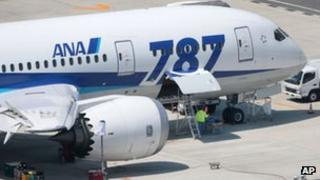 US regulators have issued a formal "air worthiness" directive allowing revamped Boeing 787 Dreamliners to fly again.
The directive from the US Federal Aviation Administration (FAA) means US airlines can begin using the planes again, provided their battery systems are replaced.
The FAA gave Boeing the go-ahead to replace battery systems with a new design last week.
Concerns over their safety forced the grounding of all 787s in January.
The directive only applies to US airlines, but other regulators are now expected to follow suit.
In the US only United Airlines currently has 787s in its fleet, but there are a total of 50 owned by airlines around the world, and 840 are on the order books.
Boeing is working to replace battery systems that are believed to have been behind fires on two 787s run by Japanese airlines in January.
It said it expected the repairs to be completed by the middle of May.
It is unclear how much the whole 787 saga will cost Boeing.
The FAA said the cost of repairing the six planes operated by United Airlines alone would be about $2.8m (£1.8m).