EE 'on track' with 4G mobile take-up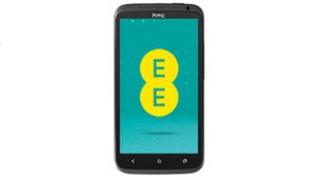 UK mobile phone network EE has said that 318,000 people have signed up to its fourth generation (4G) service.
EE - which operates the Orange and T-Mobile brands in the UK - added it was on track to hit its target of one million 4G users by the end of 2013.
EE launched its 4G service in October last year, the first UK network to do so, as it was able to use some of its existing frequency spectrums.
Its rivals, Three, Vodafone and O2 will start their 4G services from May.
Unlike EE they have been delayed by the need to purchase additional mobile phone network frequencies, which have been auctioned by the government.
The extra speed and capacity offered by 4G mobile broadband should provide smartphone and tablet computer users with superfast download speeds.
EE, formerly called Everything Everywhere, is a joint venture between France Telecom and Deutsche Telekom.
Turnover at EE in the first three months of 2013 totalled £1.67bn, down 3.9% from £1.61bn a year earlier.
The company charges more for 4G than 3G. However, in January it reduced the price of its 4G offering as it sought to boost take-up numbers.