Borrowing: is it up or is it down?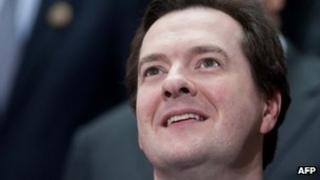 This is shaping up to be an even more nail-biting week for the chancellor than we already thought.
Not only will we discover on Thursday whether the UK has formally gone back into recession, but on Tuesday we might learn that government borrowing rose in 2012-13, after all.
You'll remember the question of whether the deficit in the past year was lower - or higher - than in 2011-12 was one of the great statistical excitements of this year's Budget.
Having wrong-footed the shadow chancellor last November, it became rapidly apparent on Budget day that George Osborne had moved heaven and earth to be able to do the same again.
Excluding most (but not all) of the big temporary factors affecting the borrowing numbers, George Osborne was able to stand up and say that the budget deficit would be very, very slightly smaller in 2012-13 than in 2011-12: £120.9bn, compared with £121bn in 2011-12.
I told the story of how he achieved that feat, despite very disappointing tax revenues.
Of course, that £100m is less than a drop in the ocean, in fiscal terms - a tiny fraction of the average revision to the deficit numbers, which happen months, even years afterwards. Forecasts of future borrowing get revised even more often, and more dramatically.
As far as economists are concerned, the important point from the Budget was that borrowing was going to be broadly flat for three years - leading the director of the Office for Budget Responsibility (OBR) to suggest that the progress cutting the deficit had "stalled". But it was politically important for the chancellor that he could cling to that tiny continued fall.
Osborne's narrative
Why am I reminding you of all this now? Two reasons.
The first is that on Tuesday we get the "actual" borrowing figures for March, the last month of the 2012-13 tax year.
When the OBR drew up the budget numbers, it had only partial data for February and none at all for March. So we might easily find out tomorrow that borrowing in the last tax year wasn't £120.9bn at all.
It's perfectly possible, on recent experience, that borrowing will turn out to be lower than that Budget forecast. But it wouldn't take much a revision upwards to ruin Mr Osborne's narrative.
The second and more important reason to go through this now is that officially speaking, Mr Osborne's £100m margin has already gone away. It turns out that it was revised away by the Office for National Statistics (ONS), the day after the Budget, when all of us were thinking about other things.
The day after the Budget is traditionally when studious journalists look for hidden bombs in the many documents released alongside the Budget, which they didn't get a chance to read. This year, it turns out, we should also have been looking in the latest public finance figures from the ONS, released on the 21 March.
We didn't really look at these, because we assumed (rightly) that the February borrowing figures were largely incorporated in the Budget forecasts already. But as it happens, the same release also showed the relevant borrowing figure for 2011-12 had been revised down slightly - by £100m, in fact.
So, even before we see Tuesday's public finance figures for March, we can say that officially, borrowing last year was not just "broadly flat" but actually flat.
Or at least flat to one decimal point, which is as many as the chancellor has previously had the temerity to mention. (He might, just, be able to say it has fallen as a share of GDP - but that, too, would depend on the number of decimal points, at which point things start to get a bit silly).
On Tuesday the numbers will probably change again. Even the figures we see for March are based on a lot of estimates for departmental spending and borrowing by local authorities, all of which are likely to be revised. The "final" figure for 2011-12 has itself gone down by £5bn since it was first released a year ago.
So, everything could change and probably will. But if you are one of those who care whether the chancellor cut the deficit in 2012-13 - I thought I should let you know that the latest official version of history says he didn't.