Santander might compensate 30,000 former Abbey mortgage holders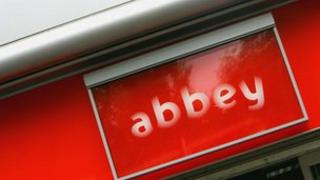 Santander, the country's second biggest mortgage provider, says 30,000 of its customers may be due compensation, after errors made in 2008.
All were former Abbey customers, who were put on standard variable rate (SVR) mortgages after coming off fixed-rate deals.
But they were not told clearly enough that they could have transferred their accounts elsewhere.
Santander has already set aside £232m to cope with this and other issues.
In December 2008, the Bank of England cut base interest rates by one percentage point.
But instead of passing on that cut in full to its SVR customers, Abbey reduced its interest rate by just half a percentage point.
It should have then made it clear that customers were free to move, penalty-free, to other mortgage providers.
But many people may have believed that they were locked into their existing loan.
"We should have told customers they were free to leave and get a better deal elsewhere," a spokesman for Santander told the BBC.
"Those who could have gone elsewhere could have got a better deal."
Compensation
When the Halifax made a similar error in January 2009, it promised to pay 300,000 customers up to £500m in compensation.
Individuals received between £500 and several thousand pounds.
In this case, Abbey customers affected can expect to receive similar amounts, depending on the size of their mortgage.
Following an agreement with the Financial Conduct Authority (FCA), Santander has agreed to write to 270,000 customers to explain more clearly what occurred in December 2008, and to help them understand whether they were affected.
The FCA said that letters sent out at the time were not clear, and affected borrowers may not have understood what was going to happen, or how the changes would affect them.
Santander is asking customers to wait and receive the letter before contacting them.
It said cases would be reviewed on an individual basis.
"The majority of our mortgage customers would not have suffered any detriment as a result of any lack of clarity in the original communication," the spokesman said.