Morgan Stanley reports first quarter profit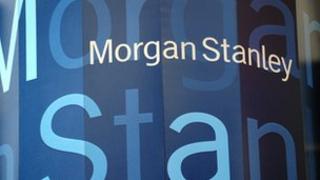 Morgan Stanley has reported a first quarter profit of $958m (£627m), compared with a $119m loss last year.
But investors appeared to be unimpressed, sending shares down 4.33% in afternoon trading.
Revenue from its wealth management group offset a decline in its fixed income and commodities trading unit.
The US bank has been focusing on wealth management as a stable source of growth.
"Morgan Stanley demonstrated solid momentum across the firm this quarter," said chief executive James Gorman in a statement.
Excluding a one-off charge related to changes in the value of the bank's debt, it recorded a profit of $1.2bn for the quarter, down from $1.4bn last year.
Excluding these charges, total revenue fell 4.8% to $8.5bn, although still above analysts' expectations of $8.35bn.
Revenue from its wealth management business, which provides financial advice for high net-worth clients, made up 41% of the bank's total revenue, growing 5.4% to $3.47bn.
Operating pre-tax profit in the wealth management business was the highest in the bank's history, said Mr Gorman.
However, revenue from the bank's fixed income and commodities trading unit fell to $1.5bn from $2.6bn a year earlier, reflecting falls in commodities and rates.
"Morgan Stanley has seen a huge shift to global wealth management, which should pay off," said Bernie Williams, a vice president at USAA Investments.
"I'm attracted to that business because it has fewer regulatory obstacles than trading and it provides more stable earnings," he added.
Morgan Stanley is scheduled to purchase in June Citigroup's remaining stake in their joint venture, Morgan Stanley Smith Barney, the retail brokerage.