Next staff to share chief executive's £2.4m bonus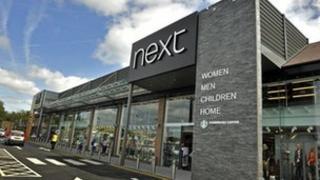 Staff at clothing and household furnishings retailer Next are to get a cash payout after the company's boss decided to share a £2.4m stocks bonus among employees.
About 19,400 workers at the firm - those who have been employed by Next for at least three years - will receive an average £124 payout in July.
The GMB union described the announcement as a "PR gesture".
Lord Wolfson's annual pay totalled £4.7m last year.
This comprised £1.1m in base salary, a separate £1.1m annual bonus, and £2.5m in long-term performance shares.
The £2.4m bonus he is giving up is related to a rise in the Next share price.
The Leicestershire firm's shares have jumped by 48% over the past year alone as its trading has proved resilient amid the difficult High Street conditions.