Kingfisher Airlines submits new revival plan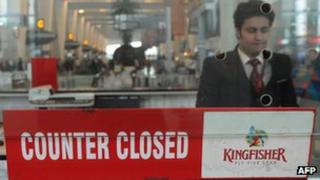 India's embattled Kingfisher Airlines has submitted a fresh revival plan to aviation authorities as it seeks permission to restart operations.
The airline's parent firm, UB Group, will inject 6.5bn rupees ($119m; £77m) to reinvigorate the carrier.
Kingfisher has $1.4bn in debts and has not been able to raise fresh loans.
Its flying permit lapsed at the end of last year and regulators have asked the airline to outline how it plans to secure its future before renewing it.
The carrier said that it had set out its proposals to revive the airline in the latest submission.
"We have given a complete plan... which includes our schedule that we plan to operate, the aircraft we plan to operate, the number of people we have," said Sanjay Aggarwal, chief executive of Kingfisher.
"We have requested that our licence be renewed," he added.
The firm's shares closed 4.6% higher on the Bombay Stock Exchange.
An earlier plan submitted by the airline was rejected by the authorities.
Turbulent times
Owned by billionaire Vijay Mallya, Kingfisher Airlines has seen its fortunes plummet in recent years.
The airline has reported annual losses for five years in a row and has seen its market share decline.
As its debt woes have increased, it has been unable to pay money owed to staff, airports and tax authorities, as well as its lenders.
Its financial troubles also resulted in its key lenders refusing to extend any fresh loans, which affected its ability to carry out operations smoothly.
As a result, its licence was suspended last year amid concerns over finances and safety.
In an attempt to revive its fortunes and infuse fresh capital, the airline has held talks in recent months with Etihad Airways and other investors with a view to them taking a stake in the carrier.
This was after the Indian government allowed foreign investment of up to 49% in domestic airlines, a move that Kingfisher had been lobbying for.