Billabong in takeover talks with consortium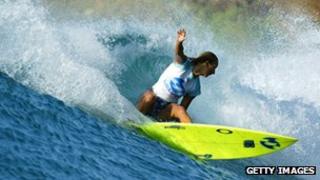 Surfwear firm Billabong is to enter takeover talks with a consortium led by its former US boss Paul Naude and private equity firm Sycamore Partners.
The group has offered $300m (£196m), a 45% cut on the offer it made for Billabong in December last year.
In February 2012, Billabong rejected a $883m bid from rival private equity firm TPG Capital.
The Australian firm has struggled to restructure and last August it revealed a full-year loss of $287m (£181m).
Billabong has sold assets, closed stores and replaced its chief executive in an attempt to revive the business.
'Small company'
"I think it [the takeover] probably does progress. I don't think they have too many options left," said Jason Beddow, managing director of Argo Investments, which has a small stake in Billabong.
"It's such a small company now, such a small investment for anyone."
Trading in Billabong shares was suspended last week, and the stock has lost about two-thirds of its value in the past year
Billabong said the 10-day exclusivity period of takeover talks would allow Sycamore to engage an "internationally recognised accounting firm to complete a confirmatory quality of earnings analysis, typical of an acquisition debt financing".
"There is no guarantee that the proposed transaction will proceed, and neither the Sycamore consortium nor Billabong is under any obligation to proceed," it added.