David Cameron will not intervene on HBOS titles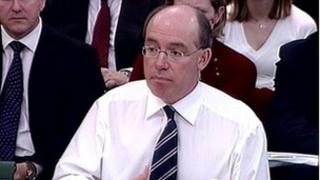 David Cameron will not ask a Whitehall committee in charge of honours to consider whether any HBOS executives should be stripped of their titles.
His decision not to intervene follows calls for former HBOS chief executive Sir James Crosby and ex-chair Lord Stevenson to lose their titles.
Both men were criticised in a damning report into HBOS' downfall.
"It is a matter for an independent committee," the prime minister's spokesman said.
The Forfeiture Committee could consider the HBOS titles, regardless of the prime minister's position.
Fred Goodwin's title
Sir James, who served as chief executive at HBOS between 2001 and 2006, resigned from an advisory position he held at London-based private equity firm Bridgepoint following the report from the Banking Standards Commission.
But he retains both his knighthood and other positions, including the post of non-executive director at Compass Group, a food services company.
In the Banking Standards Commission report, Sir James was described as the "architect" of HBOS's downfall, according to BBC political correspondent James Landale.
Lord Stevenson, who presided as chairman of HBOS throughout its eight-year existence, is currently a non-executive director at the bookseller Waterstone's.
In January 2012, Mr Cameron said it was right that the Forfeiture Committee should consider whether Fred Goodwin, the former chief executive of Royal Bank of Scotland, should lose his knighthood.
But he did not explicitly say that the committee should remove it after Mr Goodwin was held responsible for the biggest annual loss in UK corporate history.
Yesterday the the prime minister's spokesman refused to say whether Mr Cameron felt comfortable with the HBOS bankers keeping their titles.
'Rigorous appointment'
Separately, the Financial Conduct Authority (FCA) has defended its appointment of John Griffith-Jones as its chairman following calls for his resignation.
Mr Griffith-Jones was chair of accountant KPMG when it audited HBOS, Bradford & Bingley, and Singer & Friedlander - all of which required taxpayer funded bailouts.
"John Griffith-Jones was subject to a rigorous appointment process by HM Treasury," the FCA told BBC News.
The FCA officially launched last week.
The FCA also pointed out that Mr Griffith-Jones did not sit on the board sub-committee of the FCA tasked with overseeing the HBOS report.
Tony Shearer, the former chief executive of Kaupthing Singer & Friedlander, has demanded Mr Griffith-Jones resign.
"A wise person would have understood that the former chairman of KPMG could not be chairman of the FCA... He has to now resign," he wrote in a letter to Andrew Tyrie, chairman of the Parliamentary Commission on Banking Standards (PCBS), whose report last week into HBOS' collapse concluded that it wiped out 96% of shareholder value and cost taxpayers £20.5bn.
Last September in a board meeting at the now dissolved FSA, Mr Griffith-Jones declared an interest citing KPMG's role as HBOS auditor and noting that he was previously employed by KPMG.