Portuguese shares fall after court blocks spending cuts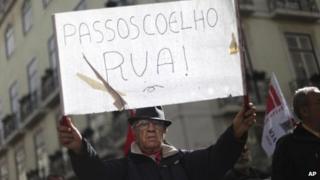 Portuguese shares fell on Monday after a court said spending cuts aimed at cutting debt were unconstitutional.
The PSI 20 share index was down 1.6% in early trading, while bond yields, an indication of the risk attached to lending to Portugal, remained above 6%.
Portugal's prime minister said Friday's court ruling meant it would have to make other deep spending reductions.
Pedro Passos Coelho said social security, health, education and public enterprises would have to be cut.
This would allow the country to avoid a second eurozone bailout, he said.
The Portuguese court rejected four out of nine austerity measures from the budget, including reductions in state employees' wages and pensions.
These cuts were expected to save between 900m (£765m; $1.2bn) and 1.3bn euros,
The European Commission warned it not to depart from the bailout terms and said carrying out the agreed programme was a precondition for further help.
The Portuguese Constitutional Court struck down more than 1bn euros (£847m; $1.3bn) of savings that the right-of-centre government had said were needed to meet the terms of its existing bailout.
Mr Passos Coelho has used the phrase "national emergency" to describe Portugal's situation.