HBOS report: Sir James Crosby leaves Bridgepoint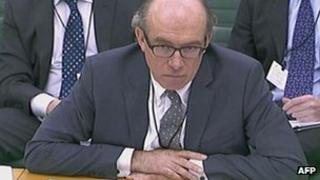 Former HBOS chief executive Sir James Crosby has resigned as adviser to investment firm Bridgepoint after criticism of his running of the bank.
The Banking Standards Committee said Sir James and another former boss, Andy Hornby, were primarily to blame for the collapse of the bank on 2008.
The BBC understands that the board of the private equity firm asked him to stand down.
So far, there has been no response from Sir James.
Bridgepoint Capital said: "Following discussion with Sir James, he has resigned from the advisory board this morning."
The committee said the primary responsibility for the downfall of HBOS lay with Sir James, who was the "architect of the strategy that set the course for disaster" and Andy Hornby, who succeeded him in the top job and "proved unable or unwilling to change course".
The report urged regulators to consider banning Sir James, Mr Hornby and former chairman Lord Stevenson from future roles in the financial sector.
Sir James was appointed chief executive of Halifax Bank of Scotland in 2001.
In 2004, he was appointed a non-executive director of the then City regulator the Financial Services Authority (FSA) while still head of HBOS.
In 2007, he became deputy chairman of the FSA following his resignation from HBOS in 2006.
He resigned from the FSA in 2009. Since 2006, in addition to advising Bridgepoint Capital, he has been a non-executive director of Compass Group and Trustee of Cancer Research UK.