Halifax: House prices continue modest rise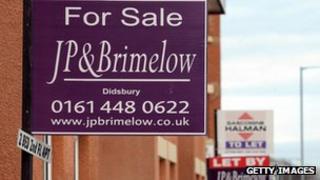 House prices in the UK are continuing to rise modestly, according to the Halifax.
Prices over the first three months of 2013 were 1.1% higher than in the same period of time in 2012, the lender said in its latest survey of the market.
This is the third consecutive month that the figures have been in positive territory.
However, the rate of increase has slowed since February, when prices were up 1.9% on an annual basis.
The Halifax is now forecasting only a small rise in house prices for the rest of the year.
"Weak income growth and continuing below-trend economic growth are likely to remain significant constraints on housing demand during the remainder of this year," said Martin Ellis, the Halifax's chief housing economist.
"Overall, we expect to see a modest increase in UK house prices during 2013."
Earlier this month, the Nationwide reported that prices in March rose by 0.8% when compared with March 2012.
The interactive content on this page requires JavaScript
High uncertainty
But even though the cost of a house is going up, the number of people taking out mortgages is not.
According to the Bank of England, mortgage approvals fell by 5% between January and February this year to the lowest level in five months.
"Despite the positive signs that are emerging, and despite the launch of Help to Buy and the Funding for Lending scheme, 2013 will likely be another year of low transaction levels and high uncertainty for the UK's property market," said Jonathan Samuels, of the lender Dragonfly Property Finance.
"In many areas of the UK, price rises seem altogether out of sync with economic reality," he said.
However, house sales appear to be rising.
Sales in February this year were 10% higher than in the same month a year ago, according to figures from HMRC.