Bank of England rejects more QE and holds rates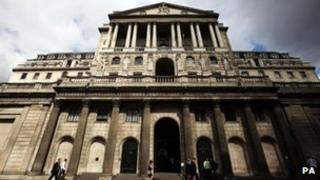 The Bank of England has decided not to expand its stimulus programme of quantitative easing and has also kept interest rates unchanged at 0.5%.
The decision had been widely expected, despite concerns over the strength of the UK economy.
A closely watched survey released earlier on Thursday indicated that the key service sector grew at its fastest pace for seven months in March.
This has raised hopes that the UK will avoid falling into recession again.
As well as the Bank of England, other central banks have also been meeting on Thursday:
Split vote
The UK's economy shrank by 0.3% in the last three months of 2012, and if it contracts during the first quarter of this year then it will be back in recession for the third time in five years.
Recent surveys have indicated that the manufacturing and construction sectors continued to contract last month and, despite the upbeat service sector survey, analysts say it will be a close call as to whether the UK avoids recession.
With interest rates at record lows, in recent years the Bank of England has been trying to boost growth through its programme of quantitative easing, which so far has pumped £375bn into the economy.
There have been signs recently that the Bank could again expand this programme, which aims to boost borrowing and investment. In the past two meetings of the nine-member Monetary Policy Committee (MPC), three of its members - including Bank governor Sir Mervyn King - have favoured an extra £25bn boost.
In last month's Budget, the Bank of England's remit was altered by Chancellor George Osborne, allowing it to consider using more unconventional monetary tools to boost the economy.
Before the Budget, the Bank's sole remit was to keep CPI inflation at 2%. Inflation rose to 2.8% in February from 2.7% the month before, and the Bank does not expect it to drop below 2% until 2016.
New governor
Responding to the Bank's latest decision, Stephen Gifford, director of economics at the CBI, said: "Recent economic data continues to be pretty mixed and will have done little to resolve the debate around the merits of loosening policy further.
"While muted growth prospects and international uncertainty will keep open the possibility of further QE, the persistence of above-target inflation may act as a bar to looser policy."
Although most economists had expected the Bank of England to hold back from taking any policy moves at this month's meeting, some are predicting that the Bank will take action later in the year.
Mark Carney, the current governor of the Bank of Canada, is due to take over from Sir Mervyn as Bank of England governor in July, and there is speculation that this could lead to further stimulus measures.
"Although the Monetary Policy Committee left policy on hold again today, we suspect that the decision was still a close one," said Samuel Tombs at Capital Economics.
"And while the chances of more asset purchases in May have perhaps declined, we still think that Mark Carney's arrival in July could jump-start the committee into action."