US factory orders rise thanks to aircraft sales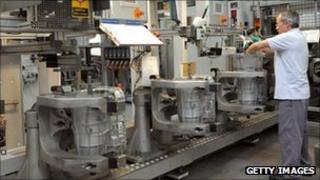 New orders at US factories rose in February from January mainly due to a jump in demand for commercial aircraft.
Orders for aircraft nearly doubled, and orders for motor vehicles and parts also increased by 1.4%.
The Commerce Department said orders were up by 3% overall in February - the biggest gain for five months - following a 1% fall in January.
Orders for all durable goods - products expected to last at least three years - were up by 5.6%.
And orders for non-durable goods, such as processed food and clothing, also rose - by 0.8%.
However, orders for core capital goods, including machinery and equipment, fell by 3.2%. Orders for computers and electronic products rose slightly.
Government spending cuts which came into force on 1 March may have an effect on future data.
On Monday, the Institute for Supply Management said that US manufacturing activity had expanded more slowly in March than February, after weaker growth in production and new orders.
The US economy has added an average of 200,000 jobs every month from November to February, bringing the unemployment rate in February to a four-year low of 7.7%.