Cold weather payments in March hit £4m, says DWP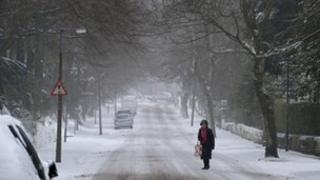 Four million pounds in cold weather payments to help vulnerable people pay bills have been made in March, compared with none in March 2012.
Cold weather payments go to those on Pension Credit and many other income-related benefits.
Each seven-day period of freezing temperatures results in an automatic payment of £25 to eligible people.
The payments indicate the difference in temperatures compared with the early spring of 2012.
Payment areas
Large swathes of the UK are subject to snow warnings, and 1,000 schools are shut.
The payments, made by the Department for Work and Pensions, are aimed at ensuring vulnerable people - especially the elderly - are not tempted to keep the heating off because of financial worries.
Areas that have seen the payments triggered this week are: Sennybridge in Wales, Bainbridge in North Yorkshire, Bingley in West Yorkshire, Lake Vyrnwy in Wales, Leek in Staffordshire, as well as Tulloch Bridge, Aviemore, Braemar, and Loch Glascarnoch in the Highlands.
Other areas where payments have been made in the last seven days include Eskdalemuir in the Scottish Borders, Fylingdales in North Yorkshire, Redesdale in North Tyneside, Salsburgh in North Lanarkshire, Shap in Cumbria, and Aboyne in Aberdeenshire.
After the payment is triggered it takes 10 days for the £25 to reach accounts. The cut-off point for payments is 31 March, so if the cold spell continues into April, these payments will not be made.
However, around 1.5m pensioners are missing out as a result of not claiming Pension Credit even though they are struggling on low incomes. They need to put in a Pension Credit claim in order to receive the payments.
Cold weather payments so far this winter stand at £138.5m, paid to nearly 3.3 million people. This is up on the total of £129m last winter. But it is still well short of 2010-11, when £430m was distributed.
Pensions Minister Steve Webb said: "I want to ensure the most vulnerable people know about the support that is available to them, during the surprisingly late cold spell.
"Cold weather payments of £25 provide real help when the weather bites. With more cold weather expected in the next week people should not have to worry about turning up the heating when temperatures plummet."