UK public finances boosted by 4G sales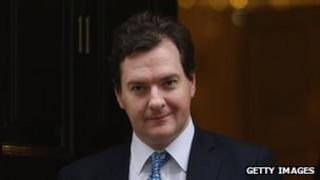 The UK's public finances have been boosted in February by proceeds from the 4G mobile licences auction and another payment from the central bank.
The country's budget deficit is now at its lowest in five years.
The Office for National Statistics (ONS) said public sector net borrowing, excluding interventions such as bank bailouts, fell to £2.8bn last month from £11.8bn a year earlier.
It comes a day after Chancellor George Osborne's fourth Budget.
On Wednesday, Mr Osborne revealed he will have to borrow £60bn more over the next five years than he had hoped, as he was forced to slash growth forecasts.
National debt
By arrangement, interest that the Bank of England earns on holding government debt as a result of its so-called quantitative easing programme is transferred back to the Treasury.
Public borrowing was reduced by £2.7bn of cash transfers as a result of that and by £2.3bn from the 4G spectrum auction, the ONS said.
The amount raised by the auction was £1bn less than expected by the Office for Budget Responsibility.
Public sector net debt is now about 73.5% of GDP, the ONS said.
In his Budget address, the chancellor said on Wednesday that the UK's national debt will rise to 85% of GDP and not start coming down until 2017/18 - two years later than predicted when the government came to power.
Mr Osborne has said that the government will have borrowed £121bn in the financial year to April 2013, roughly the same amount as it borrowed the previous year.
But the figures exclude the effects of both the transfer of the Royal Mail pension scheme to the government and gains from the Bank of England's asset purchases for quantitative easing (QE).
The OBR also ran the figures excluding the effects of the Bank's special liquidity scheme, which show the borrowing figure rising from last year - to £123bn.
Some have argued that the effects of the central bank's policies should be included, thereby forcing the government to say that borrowing went up.
Mr Osborne admitted a recovery in the UK was taking longer than expected, but insisted: "We are, slowly but surely, fixing our country's economic problems."