Retailers Next and H&M warn of 'challenging' year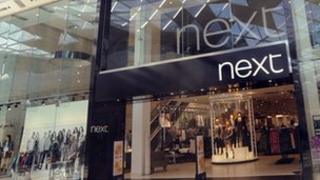 Retailer Next has said that trading in recent weeks has been "quiet".
"Sales are at the bottom of our target range, though we expect this situation to improve," it said.
Next chairman John Barton warned that he anticipated "another challenging year ahead, with little if any growth in the UK retail economy".
Meanwhile the Swedish fashion firm H&M said first quarter profit fell 10% to 2.46 billion kronar ($380m; £250m) hit by disappointing sales.
"Sales in the first quarter did not reach our expectations," said H&M's chief executive Karl-Johan Persson.
"The first quarter has been characterised by the continued challenging situation for the fashion retail industry in many of our markets mainly due to a continued tough macro-economic climate, but also due to unfavourable weather during parts of the quarter," he added.
The company warned that with cold and wintery weather across much of Europe and North America, spring sales had already been hurt.
Next shares rise
Next said pre-tax profit rose to £666.5m for the year to January, up from £579.5m in the previous 12 months.
After initially falling, shares rose nearly 3% with investors encouraged by the increase in the dividend payment to 105 pence per share.
The company added: "In this environment, we will continue to budget for our existing stores to take moderately less than the previous year."
Next said that any growth in sales had to come from "investment in profitable new space and the continuing growth in the online market, both in the UK and overseas", after it added 10 new stores, including five Home stores, in the last year and said there were further opportunities.
The retailer warned of potential price rises next year if the pound remains at its current depressed rate against the US dollar.