Japan posts trade deficit for eighth straight month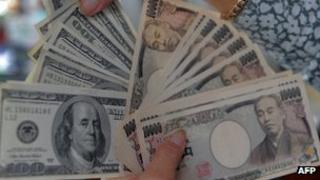 Japan has posted a trade deficit for the eighth straight month, underlining the challenge the new government faces in spurring on the country's economy.
Exports fell in February, while imports rose resulting in a deficit of 777.5bn yen ($8.1bn, £5.3bn) for the month.
Japan's exports, a key driver of its growth, have dipped in seven of the past eight months.
Analysts said the sector was facing many challenges and the recent drop in yen was unlikely to provide a boost.
According to the Ministry of Finance, exports dipped 2.9% in February from a year earlier, while imports rose 11.9%.
Unlikely recovery?
The yen has weakened by nearly 20% against the US dollar since November. That makes Japanese goods more affordable to foreign buyers.
But analysts said that many of Japan's leading exports has been shifting production overseas over the past years, and as result, their shipments from Japan had not been rising.
At the same time, they said that demand for Japanese goods had been falling in key markets such as the European Union (EU) and China, and a weak Japanese currency was unlikely to help on those fronts.
Japan's exports to the EU have dipped for 17 straight months as the region's sovereign debt crisis continues to hurt consumer demand.
Meanwhile, shipments to China - Japan's biggest trading partner - have fallen in eight of the last nine months, damaged by a territorial dispute between the two countries.
The dispute, which flared up last last year, saw anti-Japanese protests in China which knocked sales of Japanese goods in the country.
"No matter how much the yen weakens from the current level we are unlikely to see a sharp recovery in exports," said Junko Nishioka, chief economist at RBS Securities in Japan.
Ms Nishioka added that Japan may continue to post trade deficits in the near term as a weak yen increases the cost of imports.
"This trend is likely to continue and the trade deficit may even widen in the coming months," she said.