Oracle shares drop 8.2% on low earnings report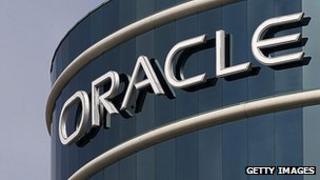 Shares in US software firm Oracle have fallen sharply after it reported a drop in sales and earnings.
The company's shares lost 8.2% after it said software licences were down 2% in the February quarter, although it had forecast a rise of between 3-13%.
Revenue came in 4.4% below a Reuters poll of average analyst forecasts.
Oracle, which blamed its sales staff for missing their targets, said it would return to growth in the current quarter.
The company, which is the world's third-largest software maker, said licences were expected to be between 1-11% higher in the fourth quarter to May.
Oracle's chief financial officer, Safra Catz, said: "What we really saw was the lack of urgency we sometimes see in the sales force, as Q3 deals fall into Q4.
"Since we've been adding literally thousands of new sales reps around the world, the problem was largely sales execution, especially with the new reps as they ran out of runway in Q3."
Oracle is battling with lower spending by governments and corporations amid a global economic slowdown and stiffer competition from cloud computing and software suppliers.
Revenue fell by 1% to $9bn (£6bn), below the $9.4bn pencilled in by analysts.
Net profits were flat at $2.5bn.
Income from Oracle's hardware division, which it took on when it bought Sun Microsystems in January 2010, fell to $671m from $869m in the same quarter a year ago.
That division has seen revenue fall in every quarter since the takeover.