Budget 2013: Chancellor may have to borrow more than expected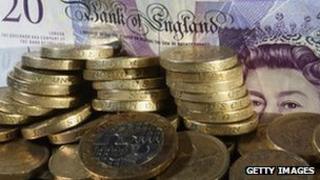 Boxed in. That is how George Osborne has described Britain's budget situation since 2010 - and his own, as chancellor.
The government's deficit was in triple figures when he came into the Treasury, and it's still in triple figures today.
Whitehall departments have stuck to the chancellor's budget plans since then. In fact, they have spent rather less than he first asked them to.
That is why he has again felt able to take a few billion more pounds out of their budgets for the next two years, to increase infrastructure spending and perhaps deliver other minor goodies later today.
No, it's not Whitehall, but the UK economy that's wildly departed from the chancellor's original script.
Britain's national output has risen by just over 1% since the election, instead of the 7% George Osborne was hoping for in his first Budget.
Today he is likely to announce that the official growth forecast for 2013 has fallen again, from the 1.2% pencilled into the Autumn Statement.
Higher borrowing
As a result of all this, nearly every expert is predicting that the chancellor will have to borrow more in this tax year, on a like-for-like basis, than in 2011-12, when the budget deficit was £121bn.
Mr Osborne avoided that widely predicted embarrassment in December. A few in Westminster suspect he will somehow avoid it again today.
But either way, we can be confident that today's Budget Book will show him borrowing at least £65bn more, in the last year of the Parliament, than he was planning in 2010 (at least, borrowing by then is not supposed to be in triple figures).
For Labour and other critics, the slow growth and higher-than-expected borrowing we have seen since 2010 are reason to change course.
The most optimistic think higher spending will pay for itself. Others, such as Paul Krugman, are not so sure.
But they think higher growth is worth the long-term cost of higher borrowing - that if the government is going to be forced to borrow more anyway, it might as well choose upfront what it is going to spend that money on.
Mr Osborne thinks different - and so, probably, do the majority of city economists.
They think that this bad news has left us even more boxed in by the legacy of the financial crisis than we were in 2010.