India cuts interest rates for second time this year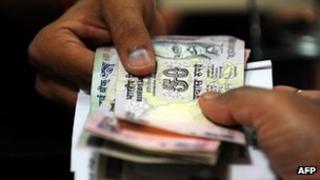 India has cut its main interest rate for the second time in three months as it looks to revive its sluggish economic growth.
The Reserve Bank of India (RBI) lowered its key rate to 7.5% from 7.75%.
India's growth rate dipped to 4.5% in the three months to end of December, the weakest pace in 15 quarters.
But the central bank, which has been under pressure to help stimulate growth, warned that there was limited scope for further easing.
It said that despite a recent slowdown in consumer price growth "the unrelenting rise in food inflation" was still keeping prices under pressure.
However, analysts said the bank was likely to continue to take measures to help spur a fresh wave of economic growth.
"The RBI had spoken of the limited scope for easing even in the January policy but have eased rates today," said Rupa Rege Nitsure, chief economist at Bank of Baroda in Mumbai.
She said she expects the bank to lower borrowing cost by a further 0.25% in May.
"There is unlikely to be any aggressive easing, but easing will continue at a gradual pace going ahead," she added.
'Foremost challenge'
India's growth has been hurt by a variety of factors in recent months, not least the sharp slowdown in its manufacturing and services sectors.
At the same time, foreign investors have been wary of entering the market amid a delay in key reforms, leading to concerns that its growth may slow further in the coming months.
The central bank said that creating an environment conducive to investment was key to reviving India's economy.
"The foremost challenge for returning the economy to a high growth trajectory is to revive investment," the RBI said in statement.
While it admitted that competitive interest rates were necessary to achieve that, it called upon the government to also take measures at its end.
"The government has a critical role to play in this regard by remaining committed to fiscal consolidation, easing the supply bottlenecks and improving governance surrounding project implementation," the RBI said.
The bank's views were echoed by analysts.
"The high current account deficit limits room for further easing, and the slowdown in growth is structural and due to supply-side issues, and should be addressed through reforms by the government," said Leif Eskesen, chief economist for India and Asean at HSBC.
For its part, the government has been taking some measures to spur investment as well as to cut the country's deficit.
It has opened up key sectors such as multi-brand retail and aviation to foreign investors.
Meanwhile, Finance Minister P Chidambaram has pledged to cut India's public deficit to 4.6% of the GDP in the next financial year beginning 1 April, from 5.2% in the current financial year.
In his budget speech last month, Mr Chidambaram unveiled new taxes on the super rich as well as large businesses, which he said would help offset increased spending by the government needed to spur economic growth.