Budget 2013: More calls to boost infrastructure spending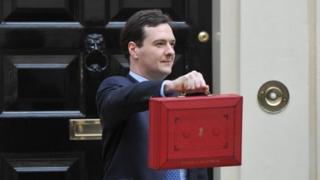 Chancellor George Osborne is being urged again to increase infrastructure spending by lobby groups the Institute of Directors (IoD) and the Item Club.
The IoD, which represents 35,000 business leaders, says it "strongly" backs the government's deficit reduction programme.
It says this can be strengthened by changes in infrastructure spending.
A separate report from the Item Club also calls for an increase in spending on such projects as roads and schools.
The economic forecasting group says that Wednesday's Budget will contain bad news, with a downgrade to growth expected, as well as higher borrowing than planned.
It says this means it is time for a "bold move".
Simon Walker, the director general of the IoD, said: "Chancellors should be judged on the tough decisions they make - not their popularity in the polls - so he must not budge an inch on the crucial job of deficit reduction."
The IoD says Mr Osborne should make the UK the "best place in the world to do business" and that he should make "further improvements" to tax, regulation and infrastructure.
The Ernst & Young Item Club report says the UK will escape further austerity, but it wants to see an extra £10bn in spending on infrastructure projects, which it says could boost growth by 0.6% next year.
It also says the chancellor is facing a double whammy of bad news.
It says the latest economic forecast from the Office for Budget Responsibility (OBR) is likely to reveal a £8bn borrowing overshoot in 2012/13 and a further downgrade to UK growth, from an expected 1.2% this year to 1%.
It says weak income tax receipts and disappointing revenues from the sale of the 4G spectrum will force the OBR to reveal that net borrowing has risen to more than £88bn this year - up from the £80bn forecast at the Autumn Statement.