Budget 2013: If I were chancellor...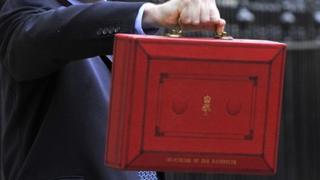 Chancellor George Osborne will present the annual Budget to parliament next Wednesday.
It's the fourth Budget that he has delivered and this time he is expected to give more emphasis to growth.
If you were chancellor, what would you do to kick-start the economy? BBC News website readers share their ideas.
Judith Derbyshire, Cumbria
We are losing our young people at a faster rate than any other county, mainly due to high house prices and low local wages.
We need to keep our young people to keep our community sustainable.
If they gave large grants to the housing associations who know how to build good affordable homes we'd have a lot of people better housed.
Patricia Sawyer, Stock
I would announce a 'euro week' where British companies who want to participate can accept payment in euros.
People would have an incentive to use the foreign currency lying around their houses. It would have a novelty value and enable people to buy something they would not otherwise with those euros that are collecting dust.
It would be a great way of injecting some money into the country, rather than introduce another measure that just concentrates on circulating existing money.
Many high street stores already label products in euros as well as sterling.
It may also encourage tourists for a week when they can use euros without having to pay to exchange rates.
Individuals and communities need to get more involved at improving the economy.
We can't just point the finger at the government - we all need to share the responsibility.
Jon Curtis, Eastbourne
I'd issue food stamps for people on Job Seekers Allowance so that they can't be spent on cigarettes and alcohol.
I think that the stamps shouldn't be used on red traffic light items and processed foods.
People could also get a discount on fruit and vegetables to encourage them to be more healthy.
This would help save the NHS money on obesity, as well as cigarette and alcohol-related problems.
I would operate a system similar to the community service program. People could work in charity shops or clear litter, to earn their benefits, as well as give them some work experience to get a job.
This would also create jobs for people to supervise them and get people the valuable skills needed in the workplace.
Child care could be provided which would create jobs for carers. It would involve an outlay by the government but it would help boost the economy and maybe get this growth everyone wants.
Sam Hopes, Bristol
Laura Bromiley, Tring
I'd lower business rates.
As a small business owner with a shop on a high street, the biggest killer is business rates. They are extortionate.
I cannot afford a wage at all. I have to claim working tax credits and am applying for housing benefit.
The moment I'll be able to afford to take a wage, it will coincide with me having to register for VAT, which means I will not be able to take a wage or employ anyone else for that matter.
I would make it a graded system, where those with one shop would pay minimal rates. The business rates would then increase the more shops a company has.
Freddie Farnworth, Taunton
I would decriminalise drugs. Taxing the drugs would save millions of pounds in prison costs.
There are many people serving prison sentences for drug crimes. By legalising drugs and creating some revenue, drug addicts could be treated as patients.
If drugs were legalised, we could cut thefts, prostitution, people trafficking, gang violence, terrorist funding and even war. We'd save millions of pounds, as well lives.
There has been a war on drugs for years. It hasn't worked. If people want to take drugs then they will find them somewhere.
If drugs were made by a pharmaceutical company, then at least the industry would be regulated.
I'd also put a higher tax on alcohol in supermarkets. I live in a rural area where many pubs have closed down because people can buy cheap alcohol in the supermarkets.
If people drink in pubs there would be a duty of care from the pub landlord or lady lady and they could turn them out when they got too drunk. Supermarkets don't seem to care about people.
More of your comments:
Eddie Deighton tweets: No VAT on high street goods on bank holidays.
Ant Walker emails: Charge vat on meat and all processed foods, so fruit and vegetables become noticeably cheaper in comparison.
Paul Burr tweets: get a grip on fuel and energy prices , this is strangling the economy , NO excuse for it just profiteering.
Eddie emails: I would use quantitative easing to set up a credit card debt refinancing scheme with a low fixed-rate for the life of the debt.
Lynda Cox tweets: Budget relief day?! We all sponsor various humiliating events for politicians & then pay off deficit with the proceeds.
Alyzande Renard emails: Hold entrepreneur and online retails clubs. Reward people for ideas.
Edward J Hall tweets: 50% increase in min wage for all in the care industries, Corp tax relief for their employers.