Zara-owner Inditex's profits rise by 22%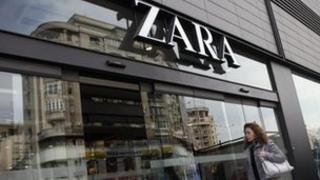 Zara-owner Inditex, the biggest fashion clothing retailer in the world, has reported yet another increase in profits, helped by sales in Eastern Europe and its new online store in China.
Profits rose by more than 22% to 2.3bn euros ($3bn; £2bn) in 2012.
The results narrowly missed analysts' high expectations, and shares were down more than 3% this morning.
The company also announced plans to open more than 440 stores in 2013.
Although its fourth-quarter performance was slightly weaker, "looked at on a full-year basis, the results are clearly very strong," says Nomura research analyst Fraser Ramzan.
"It's a stand out performance relative to any mass market retail business in Europe."
Unlike some of its European counterparts, Inditex - which also owns brands Massimo Dutti, Bershka and Pull and Bear - has seen impressive results in recent years.
It shrugged off slower sales in Europe, and particularly in its home country of Spain, by expanding into markets in Asia and boosting its online sales presence.
Last December, it broke ground on its 6,000th store, in London. It also has built flagship stores in New York and Munich and expanded to more than 64 markets in the fourth-quarter alone.
Analysts expect that the company will continue to grow, although it commands more than 14% of the market in its home country of Spain, its market share is less than 1% in other large markets like the US and China, leaving room for future growth.
Inditex's competitors have not fared as well.
British retailer French Connection also posted earnings today, announcing a pre-tax loss of £7.2m after warning in January that its losses in 2012 would be bigger than expected.
The company has been hurt by disappointing sales in its core markets of the UK and Europe, but it said it hopes to be profitable once again by January 2015.