Illinois settles SEC fraud charges over pensions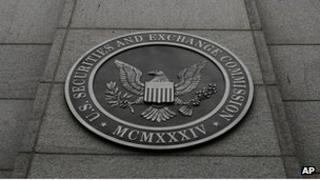 Illinois has agreed to settle federal charges alleging the state misled investors about the financial health of its public pension system, the US financial regulator has said.
The Securities and Exchange Commission had looked at how Illinois had informed investors about the impact of problems with its pension funding schedule.
The investigation related to the sale of more than $2.2bn (£1.5bn) worth of municipal bonds from 2005 to 2009.
Illinois did not admit or deny charges.
The state was not ordered to pay a penalty and the SEC acknowledged that it had "implemented a number of remedial actions and issued corrective disclosures beginning in 2009".
'Significantly underfunded'
The SEC began its investigation in September 2010, shortly after it settled similar charges against the state of New Jersey over public pension disclosures.
Illinois' public employee pension system is currently some $96.7bn short of what is needed to cover promised retirement benefits.
"Illinois failed to disclose that its statutory plan significantly underfunded the state's pension obligations and increased the risk to its overall financial condition," the SEC said in a statement.
"The state also misled investors about the effect of changes to its statutory plan."
Illinoi governor Pat Quinn took office in January 2009.
His assistant budget director Abdon Pallasch said in a statement: "The [SEC] order acknowledged the proactive steps taken by the state to enhance its pension disclosures and related processes since 2009.
"The state began these enhancements prior to being contacted by the SEC.''