Toyota places first director from outside the company to its board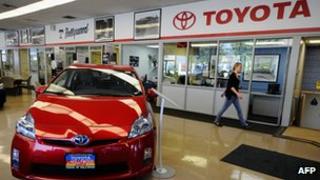 Toyota has appointed Mark Hogan, a former executive at rival General Motors, to its board.
He is the first outsider in the company's 76-year history to be named to the board.
Mr Hogan, a US national, is being brought in to help Toyota become more responsive to regional markets,
Toyota is the world's largest vehicle manufacturer. It regained top spot from GM last year when it sold 9.75 million vehicles against GM's 9.29 million.
Toyota has suffered a number of setbacks in recent years, including a series of recalls that began in 2009 and involved 14 million models.
In 2011, the carmaker was also affected by the earthquake and tsunami in Japan and flooding in Thailand, which hit the company's supply chain and production.
Mr Hogan is only the second non-Japanese person to make the company's board.
In 2007, another US citizen, Jim Press, became head of Toyota's North American operations, although he left soon afterwards to work at Chrysler.
The move comes as part of a number of changes announced by the company's president, Akio Toyoda.
He is setting up two new divisions - No 1, which will look after its North American, European and Japanese markets, and No 2 for emerging markets.
Toyota, in common with other established Japanese companies, tends to be less diverse in the make up of its employees than its competitors in the West.
The appointments will need to be approved by shareholders at their June meeting.
Last month, Toyota raised it full-year profit forecast amid a weakening yen and a sharp recovery in sales in the US.
It forecasts a net profit of 860bn yen ($9.3bn; £5.9bn) for the financial year to 31 March 2013, up from 780bn yen.