Japan's consumer prices fall for third straight month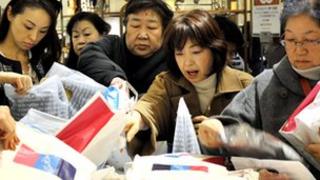 Japan's consumer prices have dipped for the third straight month, underlining the challenge faced by policymakers as they try to stoke inflation.
Consumer prices, excluding food, fell 0.2% in January from a year earlier.
Japan has been battling deflation for years. It has hurt domestic demand as consumers tend to put off purchases in hope of a cheaper deal later on.
Japan's new government has said that stoking consumer price growth is key to reviving Japan's sluggish economy.
The hope is that if consumer prices start to rise again, then consumers may look at buying goods sooner rather than postpone their purchases, as they may have to pay more for products later on.
That is likely to help drive up domestic consumption and boost Japan's economic growth.
Domestic demand has become even more important to Japan's economy in recent times as its exports, one the biggest drivers of growth over the past decades, have been hurt by a slowdown in global demand.
'Long drawn process'
Prime Minister Shinzo Abe, who won the recent general election on a platform of promises to revive Japan's sluggish economy, has called upon Japan's central bank to do more to fight deflation.
During his campaign he had even suggested that the central bank, the Bank of Japan, should print "unlimited yen" to help stoke consumer price growth.
The idea being that with more money pumped into the market, consumers will have more cash to spend and that will help up drive demand as well as prices.
Under pressure from Mr Abe, Japan's central bank doubled its inflation target to 2% earlier this year.
However, analysts said that the continued dip in consumer prices showed that achieving that target will not be easy.
"This is a clear indication that while the government wants to see consumer price growth, achieving that target will not only be tough but also a long drawn process," said Martin Schulz, of Fujistu Research Institute.
"It is not something that will happen within the next few months," he said.
Mr Schulz explained that for Japanese consumers to start spending again, they need to see their wages go up as well as see the value of their assets rise, so that they feel financially more secure.
He said that those two steps will take a long time to materialise, and as a result it will be some time before consumer prices in Japan start to rise again.