Thousands face Bank of Ireland UK mortgage rate rise
28 February 2013

From the section

Business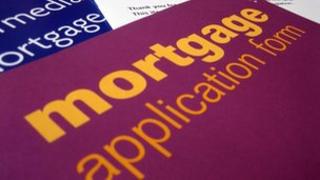 Thousands of mortgage borrowers with Bank of Ireland and subsidiary Bristol and West will see the cost of their home loan nearly double.
The bank has announced that it is to raise the rate on its Base Rate Tracker mortgages, despite the Bank rate remaining at 0.5%.
It has the power to charge a top-up level of interest on these home loans, even if the Bank rate does not move.
It blamed the rising cost of providing these mortgages and rules on capital.
Banks must hold a buffer of capital to a certain level in order to keep to European rules.
Rate rises
The bank will raise the mortgage rate for residential customers from, typically, the Bank rate plus 1.75% to the Bank rate plus 2.49% on 1 May.
It will then raise it further, to Bank rate plus 3.99%, on 1 October.
Buy-to-let customers will see their rate increased to Bank rate plus 4.49% on 1 May.
The bank said that 13,500 customers would be affected by the move, with more than half of them buy-to-let customers. The majority also had significant equity in their properties, it said.
The rate increases do not affect customers of the Post Office, which partners with the Bank of Ireland UK.
'Kick in the teeth'
Mortgage brokers said that customers would be angry about the move.
"This is a shocking move by the Bank of Ireland and, it could be argued, shows a blatant disregard for the fortunes of their customers," said Andrew Montlake, of Coreco.
"One of our clients has been hit with a sudden rise of 2.74% on a rental property that was ticking along nicely, which increases payments by £776 per month.
"It is evident that they want to reduce their back book and dispense with clients they do not see as profitable, but there must be a less dramatic way to do this.
"At least affected borrowers are coming out into a competitive rate environment with options, but this is a further kick in the teeth to those borrowers who through changes in circumstances would find it difficult to move on."
Aaron Strutt, of Trinity Financial, said: "Thousands of their customers are going to struggle to remortgage to other banks because they took out self-certification and high loan-to-value deals. Many of the banks have small print in their terms and conditions that allow them to hike rates and Bank of Ireland are cashing in.
"At a time when people are struggling to pay their mortgage, this is likely to really hurt and customers will be angry. Borrowers in a position to move should consider switching banks before the full rate hike kicks in."