Capital plan to boost new banks
28 February 2013

From the section

Business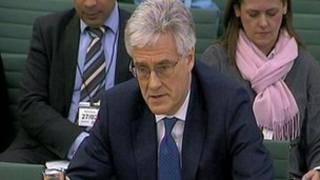 Customers could get more choice over where to bank on the High Street after the regulator announced a potential boost for new entrants to the market.
Lord Turner, chairman of the Financial Services Authority (FSA), said new banks would not need to hold as much capital as established rivals.
Under current rules, new banks have to provide a greater buffer in case things go wrong.
The big four High Street banks hold 75% of the UK current account market.
Competition
Regulators and politicians have been trying to find ways to encourage greater competition to the established quartet of Lloyds, RBS, Barclays and HSBC.
A recent report by the Office of Fair Trading (OFT) said that there was a "lack of dynamism" from the banks in the £9bn current account market alongside customer inertia.
The hope is that more entrants will mean more competition, leading to better rates and treatment for customers who are willing to move to the best deal.
Only Metro Bank in 2010 and M&S Bank in 2012 have set up in recent times, and the OFT said that neither was yet in a position to provide a significant challenge to the established providers.
'Quicker authorisation'
Lord Turner, of the FSA, said that the regulator planned to publish a document in the coming weeks that would remove barriers for new entrants.
He said they would not initially need to hold such a large capital buffer, but could still be wound down quickly if they failed, with customers funds returned quickly.
"In the past we have had pretty much the same capital and liquidity rules for new entrant banks as for existing players," Lord Turner told the parliamentary commission on banking.
Under the plan, new entrants would be able to start off with a core capital buffer of 4.5% of risk-adjusted assets, the starting minimum under new global rules known as Basel III.
Meanwhile, the major banks would still have to maintain buffers of 9.5% to 10% because of their size.
New entrants would be given time to build up this buffer to 7%, the minimum required by the end of 2018 under Basel III.
The plans will also include a system of speedier authorisation for new banks and their officials.
The move will be overseen by the Prudential Regulation Authority and the Financial Conduct Authority, new bodies that will take over from the FSA in April.
Anthony Thomson, founder of Metro Bank, said that capital requirements were only "half of the story".
"The reality is that new banks will still struggle to enter the market," he said.
"Ultimately, we need a package of reforms that will encourage more players to enter the banking market to break up the existing monopoly and create much-needed and overdue competition, choice and innovation for consumers."