Hidden theatre booking fees targeted by ASA
27 February 2013

From the section

Business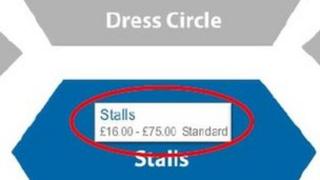 An advertising watchdog has vowed to pursue a continuing crackdown on ticket sellers who hit customers with hidden booking fees.
Four theatre websites were ruled to be misleading by the Advertising Standards Authority (ASA) after failing to make compulsory fees clear.
This has prompted the ASA to warn other ticket sellers to ensure that prices are transparent.
In addition, laws to ban excessive card surcharges come into force soon.
Advertised price
Hundreds of thousands of people book theatre trips, gigs and sports events on the internet.
The ASA said that it found cases of compulsory fees and charges not being made clear in up-front ticket prices.
Rules state that these fees must be included in the advertised price, or at least made clear at the stage when the ticket price is first quoted.
In some cases, these per-ticket or per-booking fees, of about £3, were only made clear later in the buying process, the ASA said.
It ruled against four theatre websites - the Ambassador Theatre Group, Charing Cross Theatre, the AKA Group's site for the production A Chorus Of Disapproval, and the Old Vic - for displaying misleading ticket prices.
'Fairness'
The Old Vic said the amount of the booking fees was outlined in text at the bottom of the page, and pointed out that the fee was per transaction rather than per ticket.
Charing Cross Theatre said it was not reasonable to include the commission fee in ticket prices given online, because the website was also a reference point for those booking in person at the box office, where no commission was payable.
The Ambassador Theatre Group said it had improved its website to make prices clear. The AKA Group said it would ensure fees were obvious in the first references to prices.
But ASA chief executive Guy Parker said: "The ASA is clamping down on misleading hidden costs. These rulings about advertised prices for theatre tickets make clear that sellers must include all compulsory fees and charges in quoted ticket prices and be more up-front about booking fees.
"Our priority now is to make sure our rulings are followed by all ticket retailers. These pricing practices are simply not fair. They draw us in on a false promise. They make us less likely to shop around for the best deal. Our rulings send a clear signal to advertisers: sort out your pricing, so we all get a fair deal."
Surcharge action
The ruling comes just before new laws come into force banning "excessive" card surcharges.
The government says that the charge for anyone using a debit or credit card for an online purchase must relate only to the "small" cost to a retailer of processing a card payment.
The ban will cover travel companies, booking agencies, councils and others.
European proposals would have forced companies to make these surcharges cost-reflective by mid-2014, but the government will bring the new law into force in the UK from April 2013.