Mike Ashley sells £100m stake in Sports Direct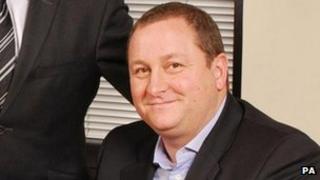 Mike Ashley has sold a 4% chunk of his stake in the retailer he founded, Sports Direct, for £100m.
Mr Ashley, the owner of Newcastle United football club, sold 25 million shares. He has a 64% majority stake left in the company.
The sale took traders by surprise and shares in the company fell 7% after news of the trade emerged.
Sports Direct, which now has almost 400 UK outlets, has seen its shares rise more than 40% over the past year.
Last Updated at 22 Jan 2018, 16:21 GMT
*Chart shows local time
price
change
%
373.80 p

-

-0.20

-

-0.05
The company also owns Lillywhites stores as well as brands including Slazenger, Dunlop and Lonsdale. In October, Sports Direct bought 20 stores, and all stock, from the administrators of one-time rival JJB Sports.
There has been speculation that Mr Ashley may be interested in making a bid for House of Fraser or the collapsed retailer Republic.
But retail analyst Nick Bubb said "[Mr Ashley] doesn't need the money and if he was intending to bid for retail assets, he would do that through Sports Direct".
He added: "I think he's doing it to improve liquidity in the stock", meaning that there will be more shares in wider circulation to make buying and selling them easier.
In December, Sports Direct reported a pre-tax profit of £125m for the six months to 28 October, a new high for the company, and up from £100m a year earlier.