Kazuo Okada quits Wynn board before shareholder meeting
22 February 2013

From the section

Business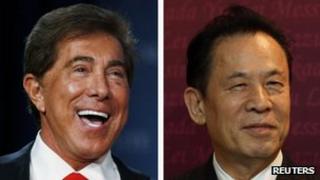 In the latest twist to the ongoing saga at Wynn Resorts, Japanese tycoon Kazuo Okada has quit the company's board.
His resignation comes a day ahead of a shareholders' meeting, which was widely expected to vote for his removal.
Relations between Steve Wynn, chief executive of the firm, and Mr Okada have soured amid allegations of illegal payments to regulators by the latter.
Mr Okada has denied the allegations, but his appeal to block the shareholder meeting was rejected by a US judge.
"I no longer believe it is appropriate for me to serve on the board of directors of a company that is behaving in a manner that I deeply believe to be unethical," Mr Okada said in a statement.
He added that the board, "has refused my reasonable requests to promptly investigate what appears to me to be misconduct by Steve Wynn, and thus is under the dictatorship of Mr Wynn and fails to fulfil its original function".
Legal tussles
Last year, Wynn resorts filed a lawsuit against Mr Okada in which the firm claimed that he made at least $110,000 (£70,000) in unauthorised payments to two gaming officials in the Philippines.
The firm also tried to buy out Mr Okada's 20% stake in Wynn Resorts for $1.9bn, a 30% discount to its market value at the time.
It was followed by an attempt by the Macau unit of Wynn Resorts, Wynn Macau, to remove Mr Okada from its board.
Mr Okada has started legal proceedings of his own to contest the buyout of his shareholding. He said that he would continue to fight the case.
"I remain determined to fight Steve Wynn's involuntary redemption of my nearly 20% stake in Wynn Resorts at a 30% discount," he said.
"My resignation from the Wynn Resorts Board will not impede me from protecting my good name and reputation."
Meanwhile, Mr Okada has also questioned a $135m donation a unit of Wynn made to the University of Macau.
He has alleged that he was not allowed to access company records and so was essentially barred from investigating the matter.