Wal-Mart warns of weak sales throughout quarter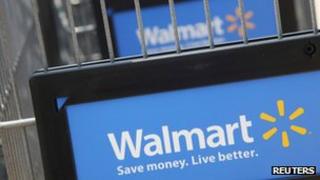 Wal-Mart said sales were slow at the start of the month and warned they would remain sluggish throughout the February to April quarter.
The caution came as it posted a rise in fourth-quarter profits, after reaping the benefit of US tax credits.
Shares in the retailer closed up 1.5% as it hiked its dividend payout for the current financial year by 18%.
Net income rose 8.7% to $5.88bn (£3.85bn) in the three-month period ending 31 January.
Wal-Mart's UK subsidiary Asda posted flat like-for-like sales excluding petrol in the same period.
Wal-Mart in its earnings statement said: "Due to the slower sales rate in the first few weeks of this year's first quarter, we are forecasting comparative sales for the 13-week period from 26 January to 26 April 2013 to be around flat."
The expiration of payroll tax cuts and a delay in processing tax returns are thought to have held back consumption in February.
Last week, leaked emails from executives described February sales figures as a "total disaster".
Last Updated at 17 Oct 2017, 19:59 GMT
*Chart shows local time
price
change
%
85.98

+

+0.24

+

+0.28
"In case you haven't seen a sales report these days, February MTD sales are a total disaster," Jerry Murray, Wal-Mart's vice president of finance and logistics, wrote in a 12 February email to other executives, referring to month-to-date sales.
"The worst start to a month I have seen in my seven years with the company," he added.
In the fourth quarter, sales at Wal-Mart rose 3.9% to $128bn. Over the full fiscal year, revenues rose 5% to $469bn from the previous year and net income rose 8.4% to $17.7bn.
Overall, Wal-Mart US sales grew 2.6% in the fourth quarter to $75bn, while its international sales grew 6.9% to $37.9bn.
UK Christmas
Meanwhile, Wal-Mart president Doug McMillon said that Asda had had its strongest online Christmas season.
He said that more than half of its online general merchandise customer base regularly shopped at Asda, with total online sales increasing 18.8% in the three months to 31 January compared with a year earlier.
Asda is expected to expand delivery capability of its George clothing in Europe this year and will be fully operational in 24 countries by the end of the third quarter, the company said.
But Asda's chief executive Andy Clarke warned: "This is no time to be complacent. It's likely to be a challenging and uncertain year ahead and so we will continue to focus on the customer and adapt the business to their needs."