Mercedes-Benz fined by OFT over competition breaches
21 February 2013

From the section

Business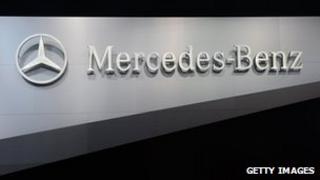 Mercedes-Benz and three commercial vehicle dealers have been fined a total of £2.6m for breaching competition law.
The Office of Fair Trading (OFT) said Mercedes-Benz and the three dealers - Ciceley, Road Range and Enza - had admitted infringing the law in the distribution of vans and trucks.
The infringements took place between 2008 and 2010.
A fourth dealer - Northside - escaped a fine after providing evidence in return for immunity from penalties.
The OFT said the nature of the infringements varied, but all contained some element of market sharing, price co-ordination, or exchange of commercially sensitive information.
The dealers involved were mainly active in the north of England and parts of Scotland and Wales.
The regulator added that the fine had been cut by 15% to reflect the fact that the companies had admitted to breaching the law.
"These cases send a clear signal that the OFT will take firm action against companies that collude to deny customers the benefit of fair competition regardless of the size of the firms involved or geographic scope of the investigation," said Ali Nikpay, OFT senior director of cartels.
"These examples also underline that the OFT can uncover cartels even in cases where the businesses involved do not blow the whistle, as well as being a concrete illustration of the benefits of businesses acting quickly and co-operating at the earliest opportunity so as to qualify for immunity from fines."