Andrew Bailey appointed Bank of England deputy governor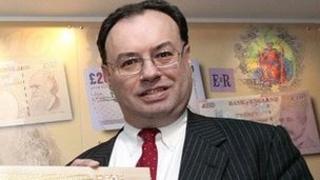 Andrew Bailey has been appointed as a deputy governor of the Bank of England, with effect from 1 April.
He will also head the Bank's new Prudential Regulation Authority, which will ensure banks and other financial institutions do not take too much risk.
Mr Bailey currently does that job at the Financial Services Authority, but responsibility for such regulation is moving to the Bank of England.
He was previously chief cashier, which meant his signature appeared on notes.
"Andrew Bailey has the right skills and experience to lead the Prudential Regulation Authority as it moves into the new era of judgement-led supervision," said Chancellor George Osborne.
"Putting the Bank of England in charge of prudential regulation is at the heart of the government's reforms to regulation of financial services."
Mr Bailey said he was "very honoured" and added that "we have a big job ahead".
He added: "There have been important and painful lessons from the financial crisis and we must ensure that the UK has a successful system of financial regulation now and for the future."
The head of Canada's central bank - Mark Carney - takes over as Bank of England governor in July.
There are two other deputy governors. Paul Tucker who is in charge of overall financial stability and Charles Bean who is in charge of monetary policy.
Mr Bailey will sit on the Bank of England's new Financial Policy Committee (FPC) - but not on the Monetary Policy Committee.
The FPC has been put in place to monitor the financial system and try to prevent another crisis.