Commerzbank to cut bonuses as profit 'unsatisfactory'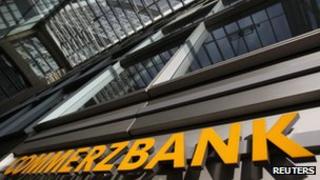 Commerzbank, Germany's second-largest bank, is slashing bonuses for 2012 as a result of "unsatisfactory net profit".
The lender says pay will be 17.2% lower than the previous year.
The chief executive, Martin Blessing, is foregoing his bonus claims - a decision which the company's chairman described as "honourable".
It follows a loss of 716m euros ($957m; £616m) for the fourth quarter, as well as an increase in the money set aside for bad loans.
The bank is in the process of restructuring its business, which will involve the loss of up to 6,000 jobs by 2016.
Mr Blessing said: "In 2012 we fulfilled the prerequisites for the realignment of the bank. Initial measures are taking effect, but one thing is clear: there is a long way to go."
He also warned that "the current year will not be an easy year... 2013 will be the year of change. And this change will cost energy, money and time."
Commerzbank, which received an 18bn-euro bailout during the financial crisis, warned that there could be more big charges to come. It is expected to take a hit of half-a-billion euros in the first six months of 2013 as a result of plans to cut jobs.
The bank predicted Germany would return to strong growth in 2014.