Anglo American falls to 2012 loss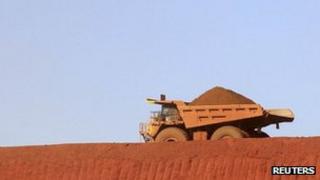 Mining group Anglo American has fallen to a pre-tax loss in 2012, hit by lower commodity prices and a writedown on a key iron ore project.
It made a pre-tax loss of $239m (£154m) compared with a $10.8bn profit in 2011.
Last month, Anglo said it would write off $4bn (£2.5bn) after a review of its Minas-Rio project in Brazil.
The company has also been affected by strikes in South Africa, particularly at its platinum mines, and took a $600m impairment charge on platinum projects.
Earlier this month, its Anglo American Platinum unit posted an operating loss of 6.33bn rand ($710m; £452m) for 2012.
'Renewed optimism'
Anglo American chief executive Cynthia Carroll cited "markedly weaker" commodity prices, continuing cost pressures and the operating loss in its platinum business as key factors affecting the overall business in 2012.
The group's operating profit for the year fell 44% to $6.2bn.
Revenue fell 10% to $32.8bn.
But looking ahead, Ms Carroll said recent months had brought "a degree of renewed optimism".
"While European and Japanese economic activity remains weak, recent policy changes ought to stimulate growth in 2013," she said.
"Alongside a continuing recovery in the US, we expect robust growth in the major emerging economies - especially China and India - as they benefit from continuing urbanisation."