GM profits rise despite European loss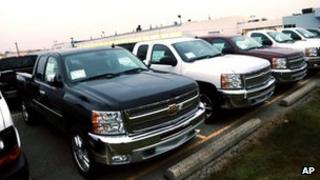 US carmaker General Motors (GM) has said its fourth quarter earnings rose despite $700m (£451m) of losses at its European operations.
It said that net income rose to $900m in the quarter, up from $500m in the same period last year.
For the full-year, it made a profit of $4.9bn.
GM noted that it "delivered a third straight year of profitability and took significant actions to put the company on a solid path for future growth".
But in Opel and Vauxhall in Europe, fourth quarter losses grew from $600m last year.
The quarterly figures were boosted by a turnaround in South America, where the company reported a $99m profit after having recorded a loss a year earlier.
It took a $5.2bn charge on its European assets during the quarter but added that "it does not reflect any change to the company's objective to break even in its European operations by mid-decade".
The US Treasury spent $49.5bn bailing out GM in 2008 and 2009, but in December it announced that it would sell its remaining 26.5% stake in the firm. However, GM's current share price means that the US government will almost certainly not get back all of the money it spent on the bailout.
Separately, French carmaker Renault said on Thursday that its net profit fell 15% to 1.8bn euros ($2.4bn; £1.55bn) in 2012, including a near 1bn-euro gain from the sale in December of its remaining stake in AB Volvo.
Renault said its goals for 2013 were to return its automotive division to profit and lift vehicle sales, which sank nearly 20% last year to 551,334 as the eurozone debt crisis took hold and the region fell into recession.
It expects the European car market to drop another 3% this year. The market contracted by 8.2% in 2012.