Shale oil 'to boost world economy by up to $2.7tn'
14 February 2013

From the section

Business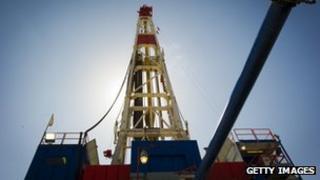 Shale oil production could boost the world economy by up to $2.7tn (£1.7tn) by 2035, according to a report.
The extra supply could reach up to 12% of global oil production, or 14 million barrels a day, and push global oil prices down by up to 40%, PricewaterhouseCoopers said.
Shale oil and gas have emerged as a viable way to boost energy supplies.
However, there are concerns over the process by which the gas is extracted, known as fracking.
In fracking, a mixture of water, sand and some chemicals is pumped into a well under high pressure to force the gas from the rock. It has been linked to minor earthquakes, and there are concerns about its impact on the environment.
In its report, PwC said that the level of global growth could increase by around as much as 3.7% by the extra supply of shale oil, which is the equivalent of adding an economy roughly the size of the UK to the total world economy by 2035.
But the benefits of oil price reductions due to shale oil will vary significantly by country.
Current major oil exporters, such as Russia and the Middle East, could be "significant net losers in the long term unless they can develop their own shale oil resources on a large scale", it said.
Last month, China stepped up its efforts to explore shale gas reserves by awarding exploration rights on 19 shale gas areas to 16 firms.
Demand for energy in China has surged in recent years as its economy has expanded. The country is now the world's biggest energy consumer.
In December, the UK government gave the go-ahead for a firm to resume fracking to exploit gas in Lancashire, which was stopped after two tremors near Blackpool.