Santander may be fined over poor financial advice
13 February 2013

From the section

Business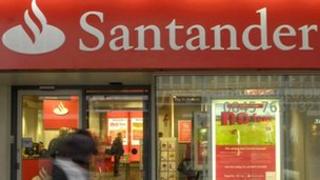 One of the UK's biggest banks, Santander, may be fined for breaching the City regulator's rules on giving investment advice to customers.
The bank's sales advice is under scrutiny after a mystery shopping exercise for the Financial Services Authority.
It found that Santander, and five other banks and building societies, had sometimes given unsuitable advice.
The BBC has learned that Santander's was so poor it now faces sanctions.
Its staff appear to have broken the FSA's rules on selling financial policies to the public, and if this is proved, it may be fined.
"Santander appears to be the bank with most problems around its financial advice to customers," said Douglas Fraser, BBC Scotland's business editor.
The bank said it would review how it could continue giving advice to customers and it has warned 880 sales staff that their jobs may be at risk.
"We continue to believe it is important to offer customers access to a broad range of financial products which are suitable to their needs and individual situations, and we are working towards that objective," said a spokesman.
Mystery shopping
Santander is one of six big banks and building societies which have now agreed to improve the quality of the investment advice they give to High Street customers.
It follows a mystery shopping exercise targeted at the firms by the FSA last autumn, in which researchers had posed as customers seeking to invest a lump sum.
The regulator said the results were disappointing.
In 11% of cases the advice was unsuitable, and in 15% the advisers had not obtained enough information to make a proper recommendation.
"This review shows that customers are not consistently getting the quality of advice on their investments that they should expect when visiting an adviser in a bank or building society," said Clive Adamson of the FSA.
"Whilst we are disappointed by the results of this review, we are encouraged by the action that the firms involved have taken to rectify the situation for their customers."
'Real improvements'
The British Bankers' Association (BBA) pointed out that in most cases the advice had in fact been suitable.
It added that recent restrictions on sales commission should already have led to improvements, but it agreed that more could be done.
"Any examples of advisers failing to gather enough information on their customers and not recommending the right products are unacceptable," said a BBA spokesman.
"This exercise took place last year before the industry implemented new FSA rules which mean advisers are now better trained and are not paid commission for making sales.
"We would therefore expect the next FSA mystery shopping review to show real improvements," he added.
Tighter rules
Since the start of the year the sale of investment policies has been governed by a new set of rules, known in the jargon as the retail distribution review (RDR).
These rules, which apply to the whole of the financial services industry, stipulate that financial advisers and sales staff can no longer be paid commissions by the firms whose policies they are selling.
The point is to stop policies, such as investments, being mis-sold by sales staff who may be more motivated by commission payments than the best interests of customers.
Instead the clients must be quoted explicit fees or charges, which can either be paid upfront, or over a period of time with the client's agreement.
Still under pressure
The recent mystery shopping exercise for the FSA was organised by the market research organisation GfK Mystery Shopping. Some 231 visits were made.
Among the problems found with the sales staff were:
not assessing the level of risk that customers were prepared to take with their lump sum investment
not adequately assessing their financial circumstances and needs
not gauging properly how long the customers wanted to hold the investments.
Last year, the FSA demanded that banks in particular should rein in bonus schemes for their own sales staff, which the regulator said had been at the heart of the mis-selling of payment protection insurance (PPI).
Barclays bank swiftly followed, announcing that bonuses to 18,000 staff in High Street branches and call centres bonuses would become entirely dependent on the quality of service they gave to customers.
However, in December the consumers' association Which? published a report saying that 65% of bank sales staff it had contacted had said they were being put under more pressure than ever to meet their targets.