Isa savers frustrated by low rates
8 February 2013

From the section

Business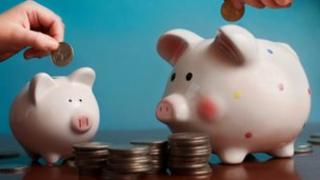 With just two months to go to the end of the tax year, could the traditional bonanza among savings providers about Individual Savings Accounts - or Isas - be a damp squib this time?
Interest on savings is usually taxable, but Isas pay interest free of income tax and have been championed by successive governments as a key way to save for the long term.
Everyone aged over 16 can have a cash Isa, and those over 18 can also have an investment Isa.
For the 2012-13 tax year, people can put aside a maximum of £5,640 into a cash Isa or £11,280 into a stocks and shares Isa.
If savers put money into a cash Isa, the balance up to £11,280 may be invested into a stocks and shares Isa.
'Understandable'
More than a third of respondents to a survey by Moneysupermarket.com said they had not taken up their allocation for 2012-13.
In addition, 8% of the 2,411 people asked said they would definitely not take advantage of the tax-free savings scheme. A further 17% said they could not afford to save because money in the household budget was too tight.
Traditionally, now is the time sometimes dubbed "Isa season", when products on offer - and, arguably, the amount saved - should be picking up pace.
"Interest rates are so low at the moment, it could put many people off saving," says Kevin Mountford, head of banking at Moneysupermarket.com.
Mike Hanson, chief executive of Vernon Building Society, agrees.
"It is understandable with the recent falls in rates in the market that people would be wary of Isas, and savings accounts generally," he says.
Independent financial adviser Yvonne Goodwin says that while she encourages her clients to use their maximum allowance, she understands why people might hold back on saving this year.
"A lot of people won't have had any salary increases for a couple of years, but food and utility bills have gone up," she says.
"There is also frugal fatigue. People may be so fed up with saving that they have decided to throw it out this year and say, 'let's take a holiday'."
'Shop around'
Experts say they are still keen to encourage savers to put money into Isas, even while rates remain low.
"Investors would be wise to utilise their Isa allowance, even at current low interest rates," Mr Hanson said. "Otherwise, when interest rates rise, they may find they wish they had invested more when they could."
Mr Mountford says: "If the average UK household is squeezed as much as they are, then every little penny helps. We need to be more active and take control of our finances."
The key, they say, is shopping around.
"You need to keep an eye on which accounts are paying the best rates - and that means looking at best buy tables," says Anna Bowes of savingschampion.co.uk
"You can also look on comparison websites."
Earlier in the week, financial information service Moneyfacts said the average interest rate being offered on a cash Isa was just 1.74%.
A year ago, the average was 2.55%.
Now only a handful of products are paying interest at more than the rate of inflation.
With such a short time left to take advantage of this tax year's Isa allowance, providers are hoping for a last-minute rush.
Yet, with the economy still in the doldrums, it may be that 2012-13 will prove to be one of the weakest years for Isas since they were introduced.