Former Baugur chief Johannesson guilty of tax evasion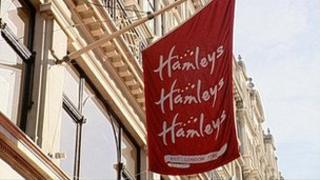 The former boss of failed Icelandic retail group Baugur has been found guilty of tax evasion.
Jon Asgeir Johannesson was given a one-year suspended prison sentence and a fine of 62m Icelandic crowns ($500,000; £310,000).
He said the fine was "peanuts" compared with the costs of pursuing the case.
Before the global financial crisis struck, Baugur invested heavily in the UK High Street. At one point it owned stakes in House of Fraser and Hamleys.
'Nobody goes to jail'
Iceland's top court found that Mr Johannesson had deliberately misfiled his tax returns between 1998 and 2003.
In a statement, he said: "They didn't find the big crime they wanted and nobody goes to jail".
Mr Johannesson's sister Kristin Johannesdottir and their former co-worker Tryggvi Jonsson were also found guilty.
Baugur filed for bankruptcy in 2009 with debts of £1bn in the aftermath of the financial crisis.
The firm had borrowed heavily from Iceland's banks. It then turned out that the banks themselves were also heavily indebted.
Icelandic banks owed about six times the country's total Gross Domestic Product (GDP) and when the world's credit markets dried up, they were left unable to refinance loans.
Iceland was then humbled into asking the International Monetary Fund for a bailout.