Credit Suisse to cut costs further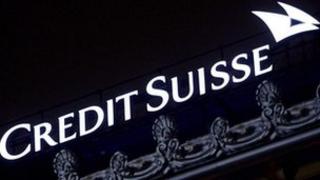 Swiss bank Credit Suisse is to cut costs further after announcing disappointing results.
It reported a profit of 397m Swiss francs ($437m; £278m) in the fourth quarter - lower than most analysts had forecast.
That was mainly due to a poor performance from its investment banking business.
Chief executive Brady Dougan said the latest measures would lead to an improvement in 2013.
Mr Dougan said: "Going into 2013, revenues have so far been consistent with the good starts we have seen to prior years, with profitability further benefiting from the strategic measures we took in 2012, including our strengthened capital position and our significantly reduced risks and cost base."
Credit Suisse will cut spending by 400m francs by the end of 2015, in addition to the 4bn francs in planned reductions announced since 2011.
It is not clear yet how many jobs will be affected.
In contrast to its bigger rival UBS, Credit Suisse is attaching a lot of importance to its investment banking business for future earnings. UBS has dramatically scaled down its operations in the industry.
"It's a mixed bag of results " said Bank Sarasin's analyst Rainer Skierka. "It's certainly not what the market was hoping for, but it's not an entirely bad set of results."