UBS posts losses after Libor scandal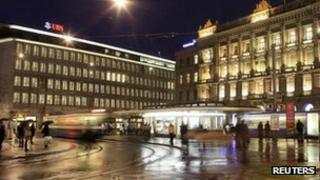 Swiss bank UBS has reported losses of 1.9bn Swiss francs (£1.3bn; $2.08bn) for the last three months of 2012.
The losses are largely due to the $1.5bn it was fined last year over the Libor rate-rigging scandal.
Total net losses for the year were 2.2bn Swiss francs, the bank said. That compares with a profits of 4.4bn Swiss francs in 2011.
UBS also said it was changing the way it awards bonuses to reflect the longer-term performance of the bank.
UBS said it will buy back 5bn Swiss francs-worth of debt over the coming weeks.
As part of the buy-back programme it will offer to repurchase around 2.25bn euros of euro-denominated debt and around $2.5bn of dollar-denominated securities.
UBS, Switzerland's largest bank by assets, also said it was cutting its bonus pool for 2012 by 7% to 2.5bn Swiss francs.
That is the lowest level since the beginning of the financial crisis, the bank said in a statement.
The bank added that it had "implemented significant changes" to the way it awarded bonuses, giving more emphasis to the long and medium-term performance of the bank.
The losses underline what has been a difficult year for UBS.
Speaking to UK MPs last month, the head of the UBS's investment bank Andrea Orcel said the bank had to work to recover its "honour" following the Libor scandal.